December 2023
Friday, Dec. 15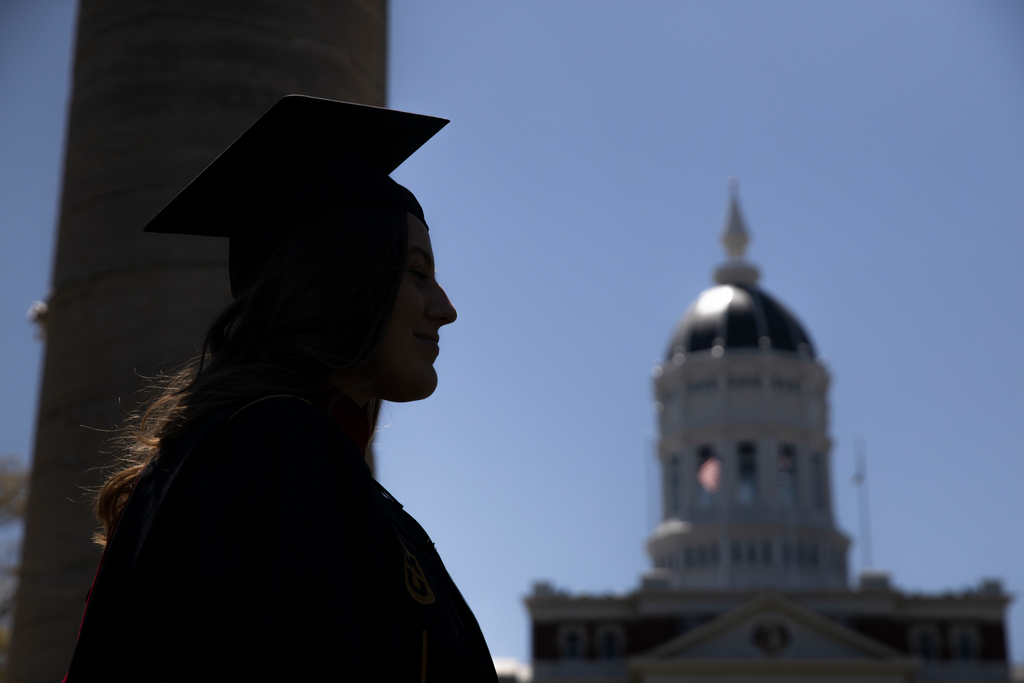 May 2024
Saturday, May 11 
Spring Arts & Science Commencement ceremonies are divided into two ceremonies according to major. 
Ceremony 1 | 12:30 p.m. | Mizzou Arena

Majors: Biological Sciences; Chemistry; Constitutional Democracy; Economics; Geological Sciences; History; Mathematics; Physics; Political Science; Psychology/Psychological Sciences; Public Administration & Policy; Sociology; Statistics

Ceremony 2 | 4 p.m. | Mizzou Arena

Majors: Ancient Mediterranean Studies; Anthropology; Architectural Studies; Art; Art History; Communication; Digital Storytelling; English; Film Studies; General Studies; Geography; German; Interdisciplinary Studies (includes emphasis areas of Black Studies, Environmental Studies, Peace Studies, and Women's and Gender Studies); International Studies; Linguistics; Music; Music Education; Philosophy; Religious Studies; Romance Languages (includes emphasis areas of French and Spanish); Russian; Textile and Apparel Management; Theatre
Before Graduation
Have you declared your minors and/or certificates? If you are unsure, go to myZou>Student Center>Academic Progress Tile>Apply for graduation to check. If you need to declare any, go to declareaminor.missouri.edu ASAP. All minors and certificates must be awarded at the same time as your degree. 
Do you have any outstanding course repeats? Repeated courses must be completed by by the end of your final term to ensure they are processed before your degree is awarded.  
Self-paced Missouri Online courses must be completed by the end of your final term to ensure that the grades are posted by the deadline to be added to the graduation list. 
If you have any transfer credits that have not been sent to MU, you must request official transcripts be sent to MU Admissions. 
If you have any incomplete or NR grades, they will automatically change to an F when grades are finalized for your final semester.  
If you do not need the course to graduate and it does not drop your required GPA below 2.0, your name will be submitted on the graduation list.    
If you do not want the F grade on your record and intend to complete the outstanding coursework after the semester is complete, you must contact A&S Advising Support Services to remove your name from the graduation list. This policy does not apply to in-process self-paced Mizzou Online courses.   
To receive Latin Honors, you must have completed 30 hours at MU and have a cumulative UM System GPA of the following (we do not round up): 
3.6 – 3.79    Cum Laude 
3.8 – 3.89    Magna Cum Laude 
3.9 – 4.0    Summa Cum Laude 
Departmental Honors requirements are determined by each department. Check with your advisor concerning questions. 
Graduates earning Latin or Departmental honors may purchase an honors cord at the Mizzou Store. 
Grades are posted the week after the end of the term. We will verify that all degree requirements are complete at that time. Once reviewed, you should receive an email verifying your degree status. 
As degrees are verified, they will be awarded on myZou and transcripts will be available. 
All tuition and fees must be paid before transcripts or a diploma will be released. 
Diplomas will be mailed to the diploma address you entered on your application to graduate approximately one month after all degree requirements are completed and degree verified. 
If want your diploma mailed to an international address, please read this information: https://commencement.missouri.edu/pre-graduation/diplomas/
About the Ceremony
We expect the ceremony to last approximately an hour and a half. Graduates are expected to stay for the entire ceremony.
Guest seating will be available starting an hour before your ceremony. There is no limit to the number of guests you can invite to your ceremony and they do not need tickets to attend; however, seating for guests is first come, first served.
ADA access is available through the south lobby of Mizzou Arena. There are accessible seating areas throughout the arena. These spaces cannot be reserved. If guests have an accessible parking tag, they will be directed to a designated parking area. Additional information about accessibility can be found on Mizzou's Graduation & Commencement accessibility webpage.
Check-in, parking, and entrance
Check-in and guest seating will be available starting an hour before the ceremony.
Graduates must check in no later than thirty minutes before their ceremony.
Graduates are encouraged to park or be dropped off at Lot P behind Mizzou Arena.
Graduates will enter through the Mizzou Arena south entrance and check in at the arena level. When you check in you will receive a reader card. Staff will help you find your seat and provide plenty of help during the ceremony when it is time to be recognized and receive the diploma cover.
There is not a secure place to leave your belongings. We strongly recommend you do not bring in a purse or bag.
At the end of the ceremony, event staff will direct graduates off the arena floor.
Livestreaming and additional details
The ceremony will be livestreamed so that friends and family who can't attend your ceremony can still cheer for you on your big day. The livestream link will be available on Mizzou's commencement webpage.
Information about last-minute items that need to be completed before the ceremony is available on the A&S commencement webpage.
Graduation regalia
Graduates can purchase their cap and gown (required for participation in the ceremony) at the Mizzou Store. Graduates eligible for Latin or departmental honors can also pick up the A&S honors cord at the store. Special cords are also available to purchase for first-generation students and those who have multiple Tigers in their family.
Honors Medallions
Those graduating with Latin or departmental honors receive a special Honors Medallion from the University of Missouri. To pick it up, go to the Mizzou Store and bring a photo ID.