Monday, April 18, 2022 - 11:17 am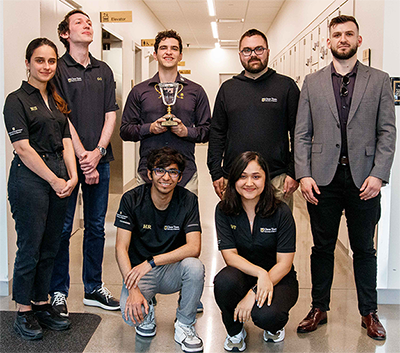 Check this out, mate! The Mizzou Chess Team continues to shine in the competitive world of collegiate chess. Members of the award-winning team were celebrated for their accomplishments during a special gathering on April 12, 2022. Some of the team's most avid supporters were in attendance including founders Rex and Dr. Jeanne Sinquefield, University of Missouri President Mun Choi, College of Arts and Science Interim Dean Cooper Drury, and Mike Podgurksy, a founding board member of the St. Louis Chess Club and a Chancellor's Professor of Economics at Mizzou.
The Mizzou Chess Team consists of nine members and their head coach and manager Cristian Chirila, a Romanian Grandmaster. Since its inception a few years ago, the Mizzou Chess team has racked up some serious accolades including winning gold and silver at the World Prestigious University Chess Invitational in China in 2019. Last October, Begim Tokhirjonova, a Woman Grandmaster, took 2nd place in the U.S. Women's Chess Championship in St. Louis. Team captain Grigory Oparin recently competed in the FIDE Grand Prix, one of the most prestigious chess events. Oparin is a Grandmaster and is the highest rated player in collegiate chess. The team includes a total of five Grandmasters, a few International Masters and an expert rated member.
The College of Arts & Science is proud to be the home of the Mizzou Chess Team, a partnership between the University of Missouri and the Saint Louis Chess Club. Founded in 2019, the Mizzou Chess Club is quickly becoming a premier collegiate team as it gains national and international recognition.