A look back at more than 100 years of classic Mizzou memorabilia.
Monday, October 17, 2022 - 22:21 pm
Department/Program
Textile and Apparel Management
A 1906 University of Missouri "M" sweater that was worn by engineering senior Carl Porter Hoff of the Mizzou football team. The team compiled a 5–2–1 record and outscored its opponents by a combined total of 94 to 79. A cartoon depicting the sweater can be found in the 1906 Savitar. Gift of Don Berry.
A black and gold wool hat from the 1920s that was gifted by Laurel Wilson, former Missouri Historic Costume and Textile Collection curator. Amid a nationwide college enrollment increase, Mizzou's student body went up 14% from the previous year for a total of 2,916 students.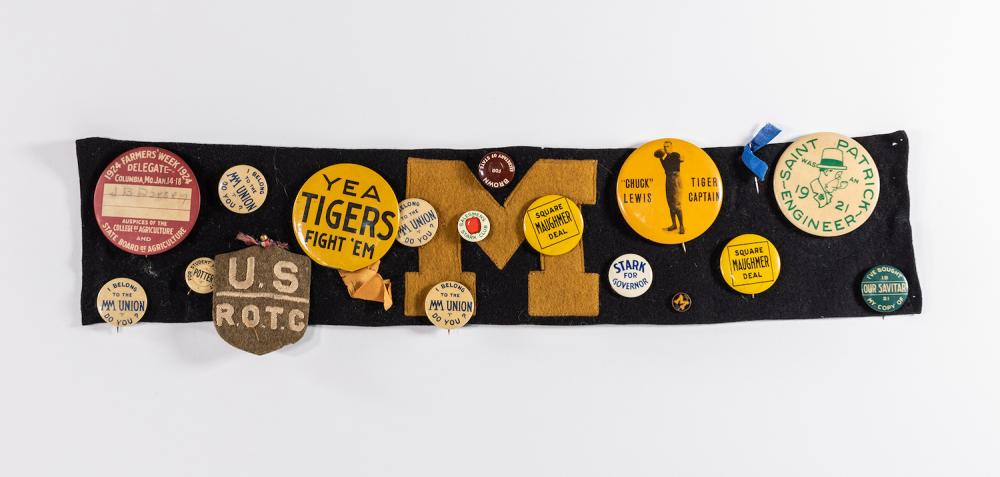 A collection of pins and memorabilia from alumnus John Dorsey (1920-24). Gift of his daughters, alumnae Sue Durrett and Mary Ann Krauss.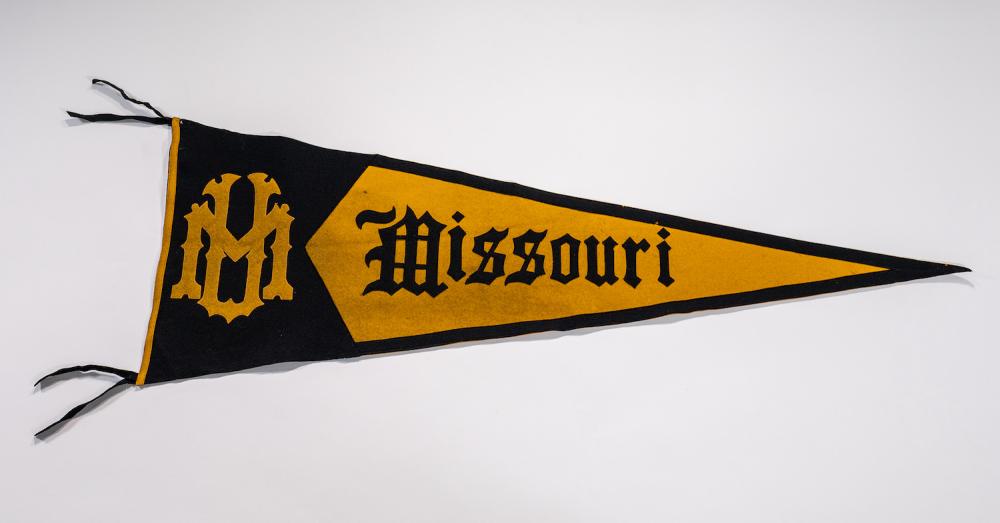 A felted wool pennant from alumnus John Dorsey (1920-24). Gift of his daughters, alumnae Sue Durrett and Mary Ann Krauss.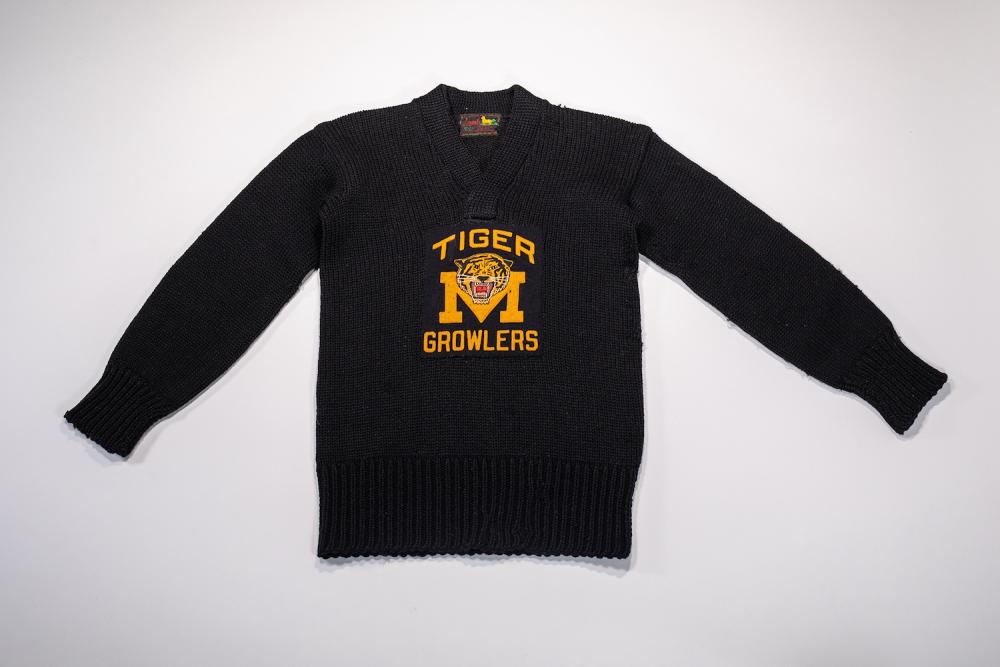 This 1932 Tiger Growlers spirit organization wool sweater belonged to MU Engineering student William W. Elbring (pictured bottom left in this Savitar issue). The Growlers evolved into the Tiger Claws pep club. Both organizations were advised by MU faculty member Jesse Wrench, a spirited motivator whose lighthearted mischief-making made him a popular figure at pep rallies and games. Gift of Sandy and Bob Castle.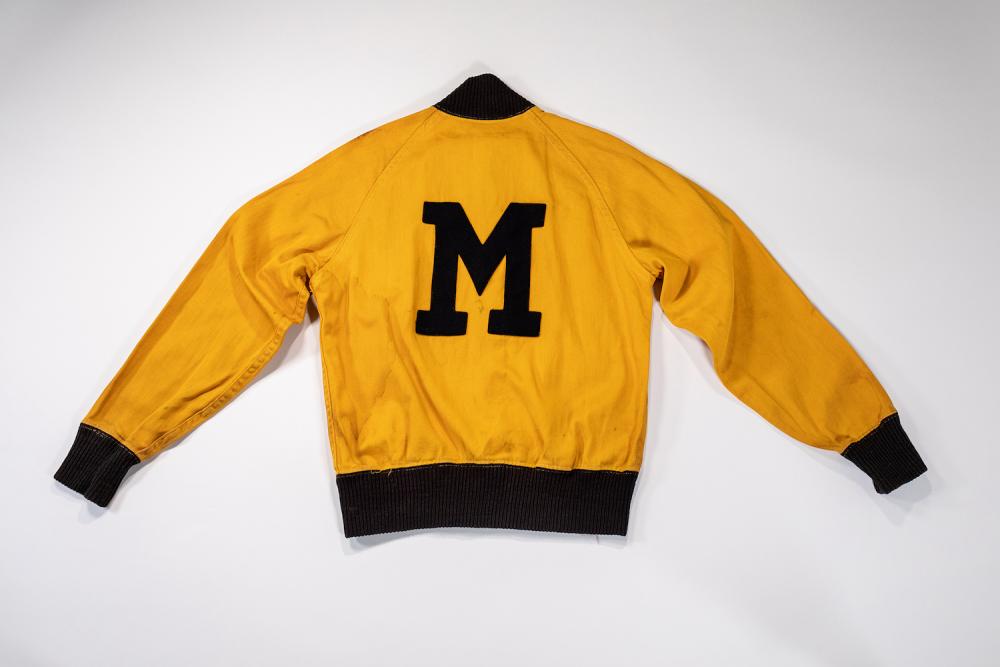 Prior to Truman the Tiger, spirit organizations such as Tiger Claws riled up Tiger fans wearing colorful black and gold jackets in their special section on the 50-yard line. According to the 1948 Savitar, the group became the second-largest organization of its kind in the country. Former member Barbara Leffler neé Donelson (pictured here on the left spread) donated her jacket to the Missouri Historic Costume and Textile Collection in 2019.
This cotton button-down shirt, worn in 1955 by Mizzou freshman Bob Martin, features an MU Tiger illustrated print. Martin was captain of the 1958 Mizzou golf team, and he was inducted into the Columbia Golf Hall of Fame in 2012. Gift of Nancy Ginn-Martin.
Student football ticket from the 1966 season. Coached by future Hall of Famer Dan Devine, the Tigers finished 6-3-1 and capped the campaign with a 7-0 win over Kansas at Memorial Stadium.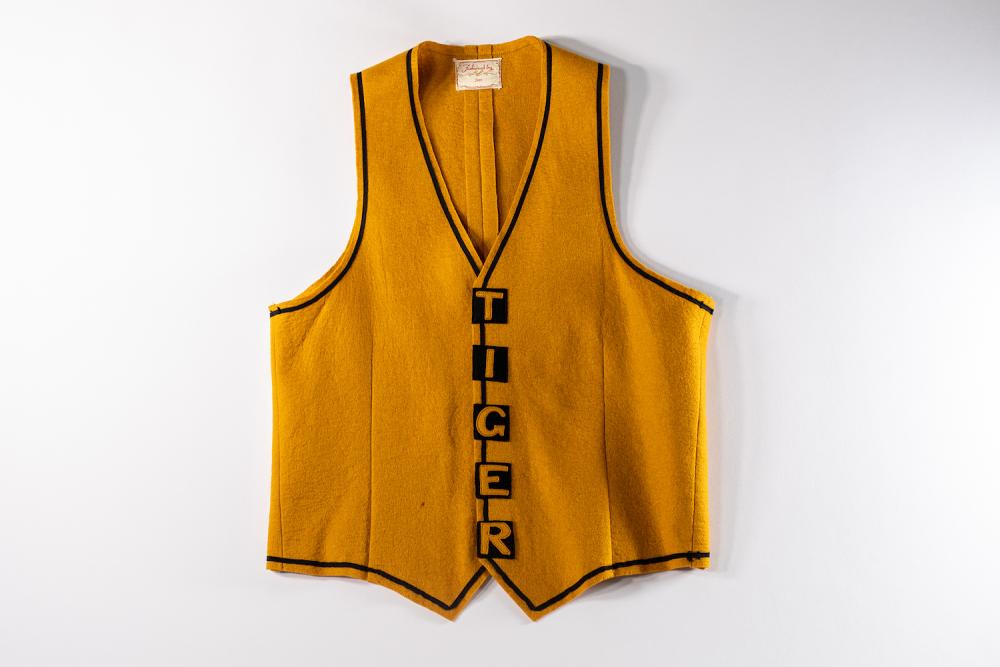 A 1960s felted wool vest made by Jean Griffin, a former assistant professor at Mizzou. "We had a winning coach during the 1960s in Dan Devine," she said. "Football fever was high and the rivalry with Kansas was fierce. During that time, my husband and I and three other couples drove to Lawrence for a game. In honor of the occasion, I made each of the men one of these vests which they wore with pride for several years." Gift of Jean Griffin.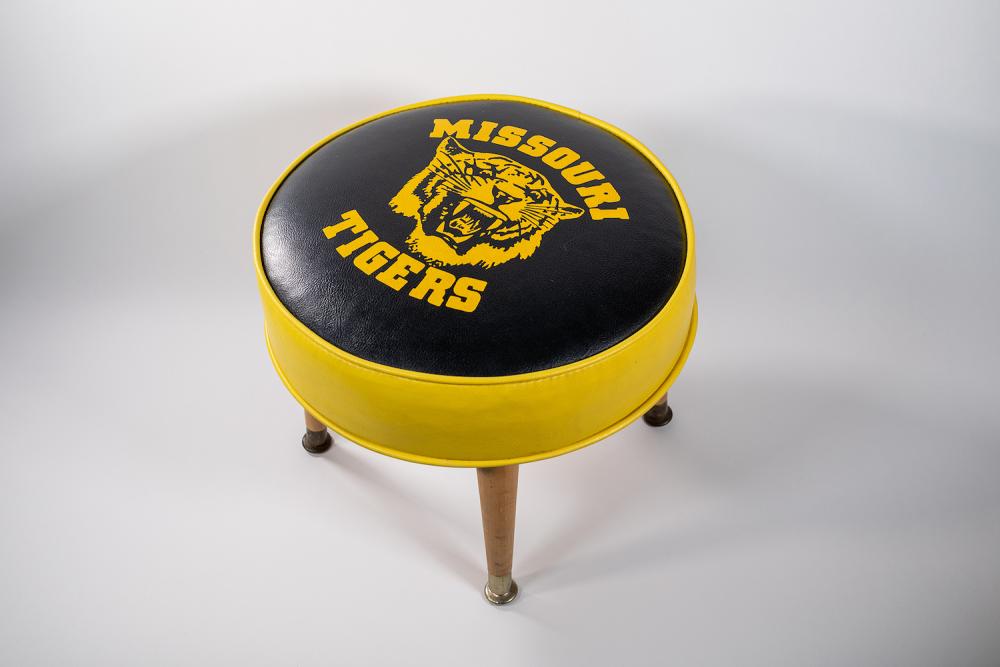 A retro foot stool from the 1970s. During this time, the Carnegie Foundation for the Advancement of Teaching published its first classification of American colleges and universities, grouping schools by the number and scope of their degree programs. MU was grouped among the nation's best universities that conferred the most doctoral degrees and participated in the most federally funded research.
A collectible Coca-Cola bottle commemorating Mizzou men's basketball's four-consecutive Big Eight championships from 1980–83.
Cheerleading megaphones from 2000. These would have been used around the time Brad Smith made his quarterback debut at Mizzou. Gift of University of Missouri Athletics.
In 2006, 12 Textile and Apparel Management students held a design competition to create plaids inspired by their study of Mizzou history. The winning design, created by Lauren Drufke-Mahe, represents MU's strength and endurance of the past, present and future. Alumnus Ed Brandon brought the design to life in 2007 as part of the launch of the Phi Kappa Psi fraternity. He also donated one of the kilts to the Missouri Historic Costume and Textile Collection.