Falconry gives her the chance to explore nature and wildlife
Wednesday, February 16, 2022 - 10:30 am
Department/Program
College of Arts & Science
When 40-year-old Sara Wolff, senior grants and contracts associate with the Dean's Office in the College of Arts and Science, takes a walk in the wilderness, she does it a little differently than most.
Often the MU graduate (BA in animal science and MA in bioinformatics and genomics) enjoys nature walks on the 22 acres she lives on, with its horses, chickens, and rabbits, with one of her three birds and her Texas Heeler by her side. She wears super thick pants that allow her to plow through briars, going from bush to bush hitting them with a stick to flush out game. Sometimes she takes her slingshot and shoots biodegradable ammo into squirrels' nests to get the rodents to reveal themselves. Or she stomps on grass piles, outing rabbits from their habitats. Or she motions her dog to look for her.
When an animal appears, Wolff cries "ho ho ho" which signals one of her trained birds to fly off to retrieve the small game (or grasshoppers, house sparrows, and mice in the case of the smaller bird), and either eat their prey or Wolff takes it to put in a garage deep freezer for future feedings. Each of her three birds are equipped with telemetry radio transmitters in case they fly off or are buried under brush and invisible. They are trained 1,400-gram
When an animal appears, Wolff cries "ho ho ho" which signals one of her trained birds to fly off to retrieve the small game (or grasshoppers, house sparrows, and mice in the case of the smaller bird), and either eat their prey or Wolff takes it to put in a garage deep freezer for future feedings.
Red Tail Hawk, Caprica; 650-gram Harris Hawk (a desert hawk native to the Arizona/New Mexico area), Rowdy; or her 100-gram American Kestrel, Thistle.
"Every 10 minutes or so, I'll offer a little treat or flush game to encourage the bird to follow well," says Wolff. "It's fun. It's good exercise and excitement for the bird. I tend to move toward eclectic hobbies."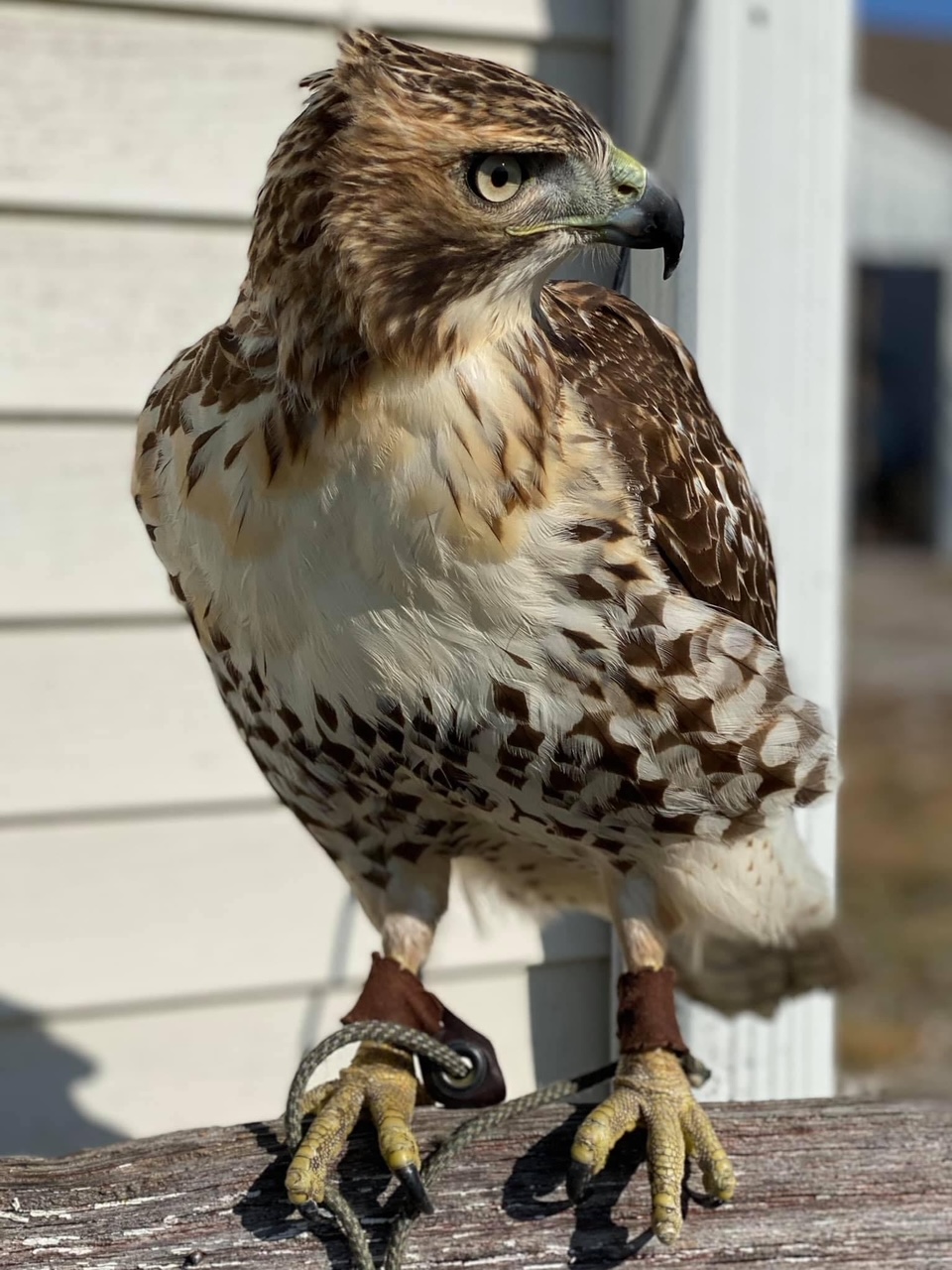 Not a High-Demand Sport
Wolff is a state- and federal-licensed falconer, which is a heavily regulated hunting sport. The sport consists of participants' free-flying birds (mainly raptors) with the intention of either getting small game, or moving it from places it shouldn't be, like barns or crop land, or ridding overpopulated birds such as sparrows. There are 131 falconers in the state, mainly in St. Louis, Kansas City, Springfield, Columbia, and outlying areas such as Fulton.
Wolff says people are amazed at her hobby. "They are usually, like, 'people still do that?' They are really surprised."
Historically, training and flying raptors was a hunting sport for the table that has its origins thousands of years ago in the Arab regions and Middle East, later reaching to Mongolia, Europe and Russia. The sport arrived in the U.S. officially before World War II in the early 1930s.
They are usually, like, 'people still do that?' They are really surprised. - Sara Wolff
Today, some falconers eat the game their birds retrieve, but Wolff stocks it for the times of years she is not allowed to hunt (mainly summer). "They catch quite a bit more than they can eat," she says.
The birds – Hawks, Falcons, and Kestrels – are often groomed to hunt with a human while juvenile. They are trapped before they reach breeding age but are old enough to be adept at catching prey and have the skills to survive.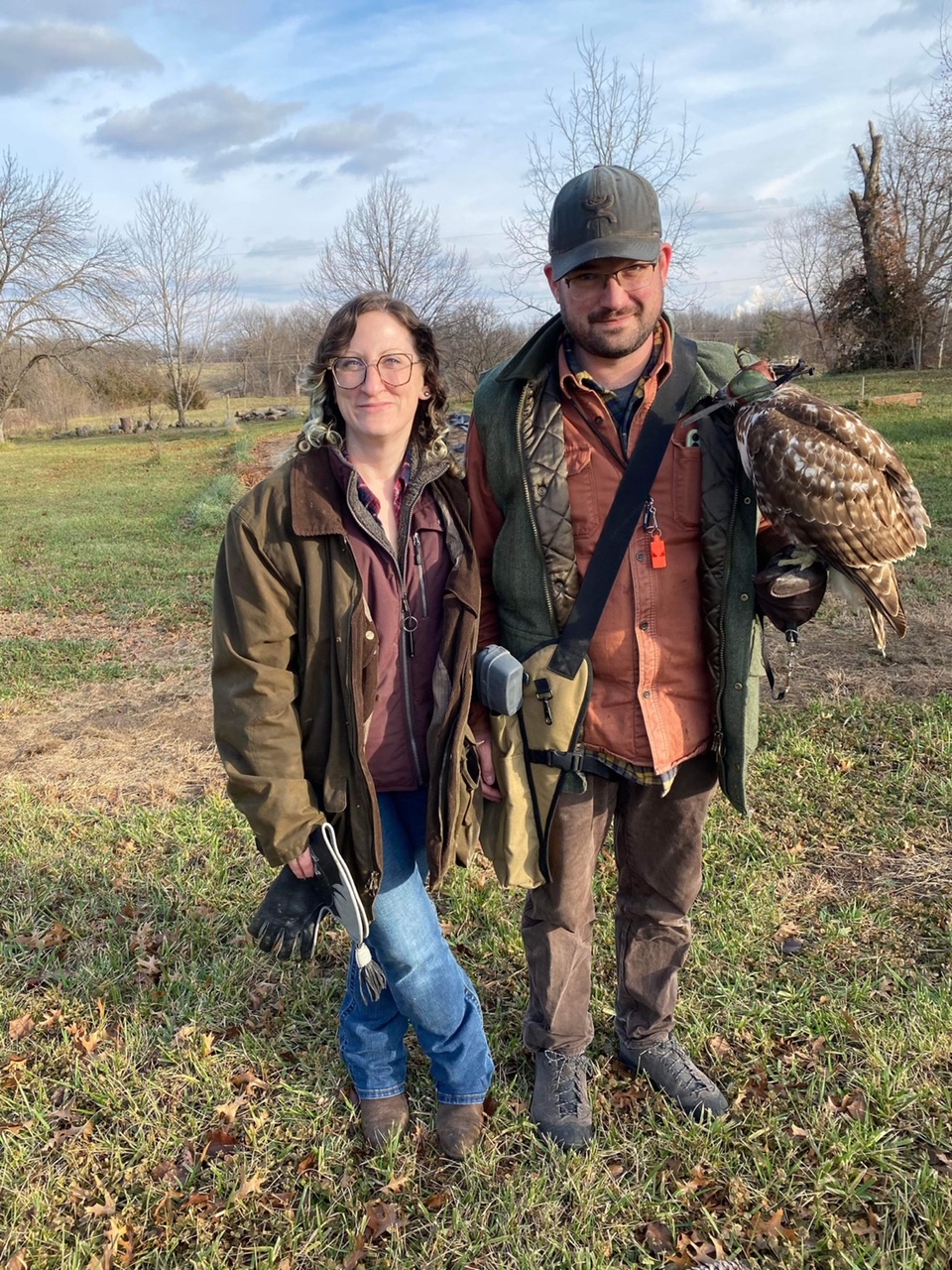 Training, Training, Training
"Nearly 90 percent of Hawks in the wild will die in their first year," explains Wolff. "They either fail to learn survival skills, get hit by a car, or get eaten by a predator. If they can make it past the first year, they do really well.
"So, for falconers, if we can trap one and train it to hunt it for a year, that means it's protected for that crucial first year and there is a high success rate for birds that are trapped and used for falconry."
Once falconers trap a young bird, they spend a lot of time training that bird, usually using food as a reward. First, they spend time with the bird sitting on their arm with special equipment – a glove, a leash, a tether (or "jess" for each leg), an anklet on each leg, and food readily available – in a practice called "manning."
"You have food on your glove, so they learn there's a source of food right there and there is no reason to be afraid. There are several different methods for doing this. I simply sit and watch TV with the bird on my falconry glove for hours at a time.
"You just hang out with the birds, so you become a very normal thing and every now and then you put a piece of food on your glove, and they are like 'oh hey, you're giving me food and you're not scary at all,'" Wolff explains. "You don't put any pressure on them whatsoever. You just let them get used to the environment, and also put them on a perch near you so they get used to being around you."
She also keeps her heeler nearby, so her birds and dog get used to each other. The birds need to realize the dog is not out to hurt them or steal their food.
After the birds start taking food and feel comfortable in the environment, they are fed less, so their body weight drops about 20 percent.
"Most birds are really fat when they are trapped," Wolff says. "At least in the Missouri area there's a ton of prey to eat and juveniles have been fed by their parents, so they start out fat. The goal is to build them up to a super athlete. So, you want to burn the fat off and add a lot of muscle weight by exercising them."
Falconers first teach their birds the glove means food. Then they train them to fly off the glove. They do this by taking short steps away from the glove, luring them with another treat. Pretty soon they are flying all the way across the room. Once successful at that, they are taken outdoors for further training. At this time, they have a muscle mass level to where their metabolism is very high, and thus they have a strong draw to the human who trained them so they will follow the falconer through the woods, anticipating a meal.
"It's all food motivated," Wolff says.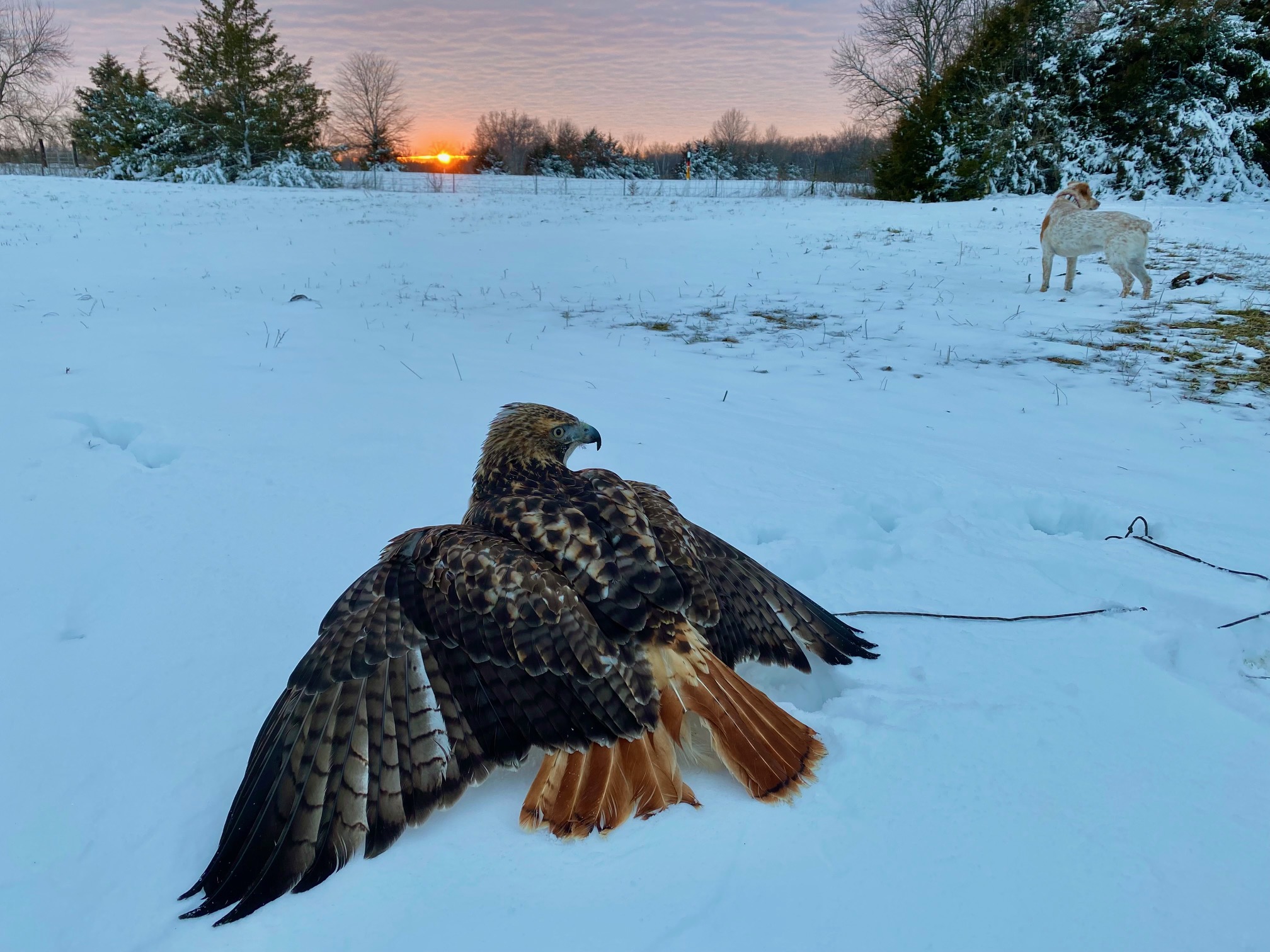 A Year of Flying
The birds usually stay with their handlers for about a year, then are released back into the wild, fully capable to survive on their own. "When they are not begging for food anymore, they are ready to go," says Wolff. "It's not so much a connection because they are certainly not pets. They are wild animals through and through. But it's just really cool to be out into nature and connect with wild creatures and know that they don't need me, and that I can release them, and they would be fine. And also, that the birds don't need anything from me whatsoever but choose to come back without a bond or anything. Doing it willingly. It's a cool relationship."
Wolff became a falconer after she met a falconer who noticed she was really good at handling birds at the MU Raptor Rehab where she volunteered. She became his apprentice, and the rest is history.
To become a state-licensed falconer in Missouri, the process includes a 100-question state-required exam, a state inspection of the area where the birds will be housed and the equipment used to train and protect the birds, a sponsor, a permit, and more. There are three levels of falconry licenses: the apprentice, which lasts two years; the general, which has no time limit; and a master. Wolff is a general and has been a falconer for four years.
In addition to hunting on the property she lives on, she goes to a neighbor's farm, her partner's farm outside of Nevada, Missouri (400 acres), St. Louis (a 100-acre common area behind her childhood home) or plots of MU land where falconry is allowed.
Falconry is legal in all U.S. states except Hawaii and the District of Columbia.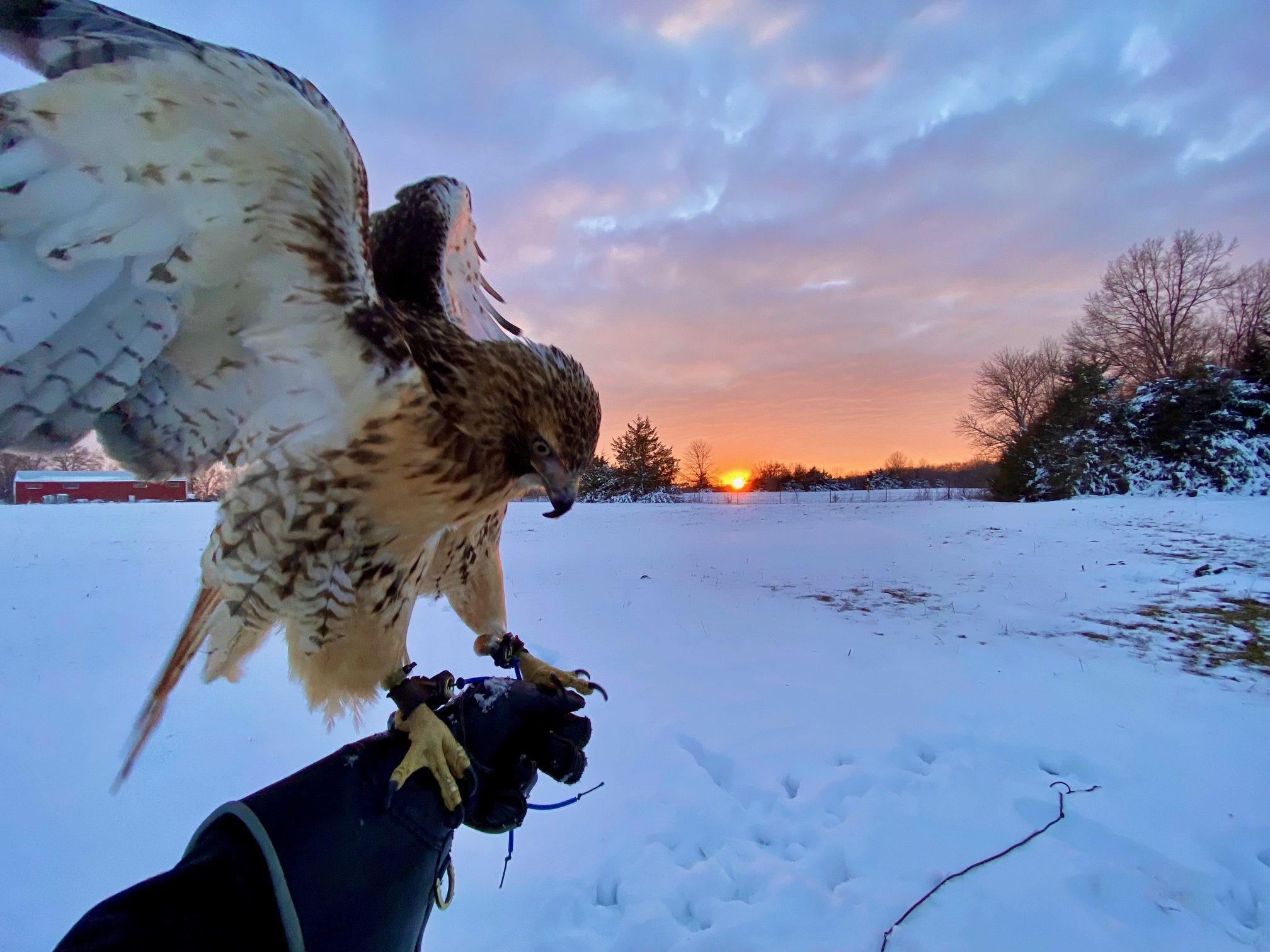 Pleasure and Conservation
"I just enjoy falconry," Wolff says. "It's like solitude and nature. It's a solitary sport and that's one of the reasons I did it or wanted to do it. Sometimes, however, I will go with my boyfriend, Jack, or with a friend. But not usually big groups.
"The birds enjoy it, too. They know there's going to be lots of game and lots of things to chase and it's a very exciting time for them. When you put them in the car, they're like 'oh we're going to do it again' and they'll start screaming in the backseat in their little travel box.
"Like most hunting sports – falconers – most if not all, are very concerned about maintaining our natural resources above all else. I've found that the people who stick with it, are the people who care about nature and like to be in nature. So, yes, people are doing it for the glory of flying a wild animal but are serious about nature and conservation."