Respect, Responsibility, Discovery, Excellence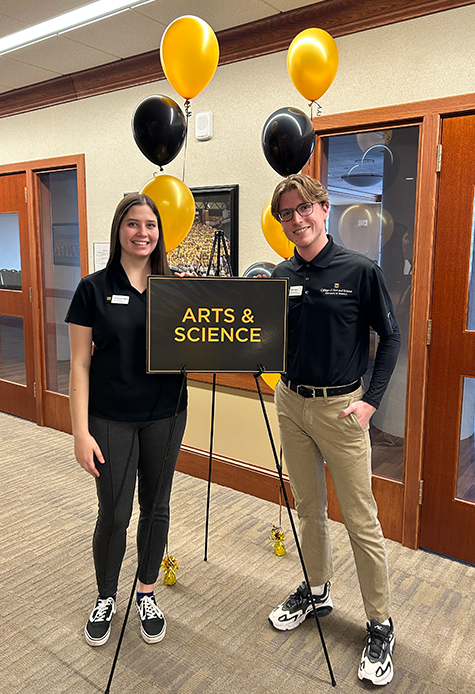 A&S Student Ambassadors are selected to represent the College of Arts & Science at a variety of events, including undergraduate recruitment, alumni events, and other campus activities. Ambassadors develop leadership skills that complement their A&S degree, network with the expansive alumni base, and prepare them for a variety of fields after graduation.
Interested in becoming an A&S Student Ambassador? We're looking for students to complete our team this fall. Apply today!
A&S Student Ambassadors
Awarded a stipend for their service each semester
Duties are split between service and office hours

Service hours can include Meet Mizzou Days, Countdown Mizzou Days, and A&S Week
Office hours can include prepping recruitment materials, writing postcards, and creating content for our social media pages

Full-funded travel opportunities

In-state and out of state

Leadership Opportunities

Senior Ambassadors
Development
Internal Operations
Social Media Coordinators
Recruitment Liaisons
Our A&S Student Ambassadors are here for you!
Whether it's a question about a course, campus life, or the best place to eat in town, our ambassadors are here to help.
Eden Schulte, Senior Ambassador, ejsvw6@mail.missouri.edu
Tiffany Garcia, Social Media Coordinator, tgarcia@mail.missouri.edu
Jack Stiens, Recruitment Liaison, jfst56@mail.missouri.edu 
Aliza Ahmed, akay7d@mail.missouri.edu
Josh Brown, jcbgb2@health.missouri.edu
Joi Cottle, jcgvc@mail.missouri.edu
Liz Cahalan, lacc54@mail.missouri.edu
Jacqueline Glenn, jagzt6@mail.missouri.edu
Sophy Silva, scs47r@mail.missouri.edu
Des Silvers, drsbm2@health.missouri.edu